Deluxe Handlebar Buckets

Handlebar buckets are one of our most popular items of cycling / bike packing gear. They're like pockets for your bike!

Our newly designed Deluxe handlebar buckets now have a deeper and roomier external mesh pocket. Great for touring, mountain biking, bike packing, and commuting, they hold just about anything you want to keep safe and secure yet within easy reach while you're riding.
Deluxe handlebar buckets fit on EITHER side of your bike stem thanks to a simple, clever sliding buckle system (see photo above).

Draw skirts available in your choice of three colors: black, royal blue, or forest green.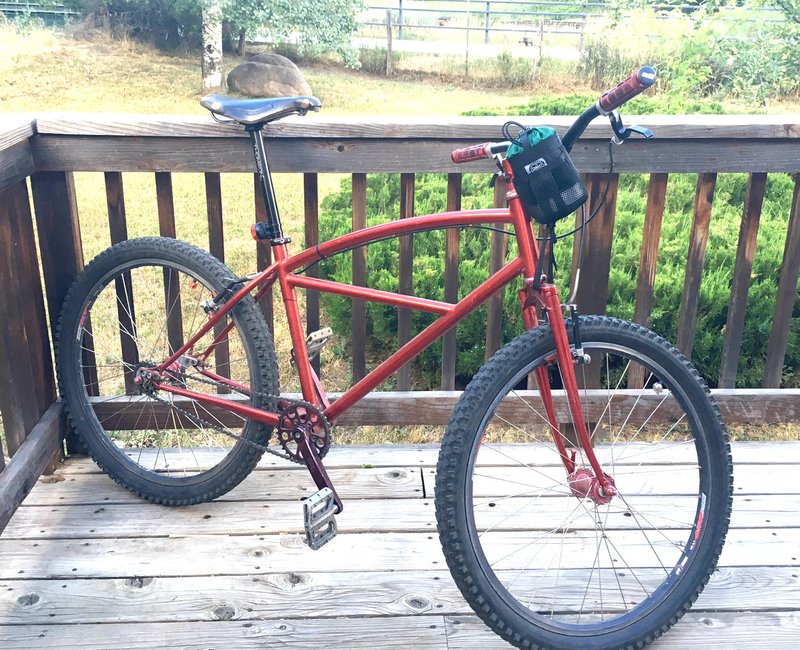 FEATURES:
Handmade using ultra light-weight, super sturdy, waterproof X-Pac© material

External mesh pocket - now deeper and roomier!

Fits on either side of bike stem. Bottom fork crown harness slides to left or right side of bucket bottom when mounting to bike

Comes in two sizes: Tall (

7" long; 4" diameter) or Short (5.5" long; 4" diameter) - Both fit a 1-liter Nalgene bottle

All your items are within easy reach! Perfect for cell phone, wallet, keys, snacks, etc.

Oxford Nylon draw-skirt keeps items safe and secure. Available in a variety of colors

Wrap around 1-inch 3M reflective tape

Soft, white-colored felt inner lining

Foam pad at the bottom for more cushion and support